Équipe de rattachement : BIOFEEL
Statut : Chercheur
Tél. : +33 (0)5 46 50 76 50
Chercheur CNRS, CR1
Section de Recherche CNRS : section 30 (Surface continentale et interfaces)
Institut référent : INEE
Mots clés : Bacteria, Archaea, structure, diversité fonctionnelle, cycle biogéochimiques
Thèmes de Recherche.
Rôle des communautés bactériennes et archéennes dans les cycles biogéochimiques des écosystèmes littoraux
Acteurs invisibles mais essentiels des cycles bio-géochimiques, les microorganismes ont un impact considérable sur l'environnement, la santé et l'économie. Les microorganismes représentent en effet la plus grande partie de la diversité du monde vivant, et, seule la connaissance des relations entre changements environnementaux et changements de la diversité des communautés procaryotes peut permettre la maîtrise des processus microbiens qui gouvernent le fonctionnement et la pérennité de notre environnement.
L'ensemble géographique des Pertuis Charentais, qui servira de zone d'étude principale et de référence à ce projet, est une série d'écosystèmes interconnectés formant la transition bassins versants/océan. Ces milieux sont le siège d'une forte productivité biologique et sont généralement exploités par la pêche et la conchyliculture (le Pertuis charentais est le 1er site conchylicole de France).
Les microorganismes, qui constituent le premier maillon de la chaîne trophique, dans ces écosystèmes ont un rôle majeur dans le fonctionnement de ce milieu. Il est donc indispensable d'étudier plus en détail ces communautés afin d'identifier leurs rôles et leurs contributions dans le fonctionnement de la totalité de l'écosystème.
Les données et les connaissances acquises au cours de projet permettront de décrypter cette « boite noire » et la relier aux autres compartiments biologiques du réseau trophique. Ce projet de recherche contribuera à répondre à des questions environnementales, aujourd'hui considérées comme prioritaires, dans une optique de maintien durable de la forte productivité des écosystèmes des Pertuis Charentais et du fonctionnement des espaces côtiers en général.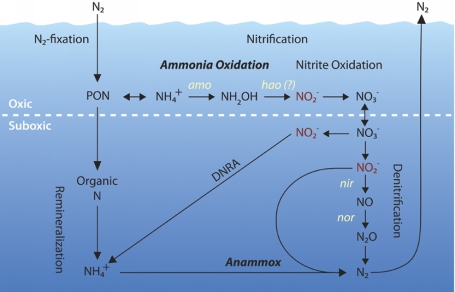 illustration : Francis, CA, Beman, JM and Kuypers MM. The ISME journal. 2007:1:19-27
---
Principales collaborations :
Pr Magali Ader et Dr. Emmanuelle Gérard, Institut de Physique du Globe, Paris, France
Pr Cécile Bernard, Muséum d'Histoire Naturelle, Paris, France
Dr Marc Bouvy, Dr Christophe Leboulanger et Jean Christophe Auguet, Laboratoire Écologie des systèmes marins côtier, Montpellier, France
Pr Jun Gong and Dr. Xialo Zhang, Yantai Institute of Coastal Research, Yantai, Chine
Dr Mylène Hugoni, Laboratoire Ecologie Microbienne, Lyon, France
Dr Anniet Laverman, Laboratoire Ecosystèmes, Biodiversité, Evolutio ; Rennes, France
Dr Aude Leynaert, Laboratoire des sciences de l'Environnement Marin, Brest, France
Dr. Isabelle Mary et Dr Clarisse Mallet, Laboratoire Microorganismes : Génome et Environnement, Université Blaise Pascal, Clermont Ferrand
Dr. Cindy Smith, NUIG, Galway, Irlande
Liste des publications :
* Cette liste est une extraction automatique des publications référencées sous HAL qui est susceptible de contenir des doublons. Ces derniers sont en cours d'analyse et seront supprimés prochainement.
2018
Article dans une revue
2017
Article dans une revue
2016
Article dans une revue
2015
Article dans une revue
2014
Article dans une revue
2013
Article dans une revue
2011
Article dans une revue
2008
Article dans une revue
2006
Article dans une revue
2005
Article dans une revue
2004
Article dans une revue
2001
Article dans une revue