Équipe de rattachement : AGÎLE
Statut : Chercheur
Tél. : +33 (O)5 46 45 68 06
Enseignant-chercheur
Université de La Rochelle
Section de Recherche : CNU 23
Institut scientifique du CNRS référent : INSHS
Mots clés : SIG, géomatique, Modèle Numérique de Terrain, espace/temps, simulation multi-agent.
Thèmes de Recherche.
Mes activités de recherche s'organisent autour de deux thèmes :
Le premier traite de la modélisation des données altimétriques (MNT). Je travaille sur différentes applications qui nécessitent une connaissance du relief (Risques, géomorphologie, covisibilité).
Le second thème s'articule autour de la mise en place d'outils, de méthodes et de données permettant des analyses géographiques temporelles et des simulations. La plupart de ces travaux sont appliqués à la mesure du phénomène d'étalement urbain. Dans ce cadre, je participe à différents projets de recherche :
Participations :
Projet ANR STORISK, coordonné par le LIENSS
Projet ANR ACTEUR Agents Cognitifs Territorialisés pour l'Etude des dynamiques Urbaines et des Risques, coordonné par l'Université de Rouen
Projet LittoSIM, du "Défi Littoral 2016" du CNRS
Projet LITEAU du ministère de l'environnement, coordonné par L'ADEF.
Projet ANR Ville durable VEGDUD, coordonné par l'IRSTV de Nantes.
Projet ANR ALPAGE , coordonné par le LAMOP, Paris 1 Panthéon-Sorbonne.
Projet VULNERARE, financé par la fondation de France
Projet MASPLU, coordonné par le LIENSS, financé par le FEDER


As a researcher at University of La Rochelle, my projects are focused on DTM analysis, interpolation methods and altimetric data modeling. I work also on spatial analysis, cellular automaton and agent based modeling for spatial simulations. As a teacher, I am in charge of a master's degree in Environmental Sciences, where more than 120 motivated students graduate every year. Feel free to contact me for any information.
Current research programs :

Space and time project, directed by Rousseaux Frederic and Patrice Boursier, granted by CPER


PROCODYF project, coordinated by Association Des Etudes Foncières


ANR VEGDUD, coordinated by IRSTV, Nantes


VULNERARE granted by Fondation de France


MASPLU, coordinated by LIENSS, granted by FEDER


member of MAPS, spatial modeling workgroup, coordinated by CNRS
Achieved programs


ANR ALPAGE, coordinated by LAMOP, PARIS 1 Panthéon-Sorbonne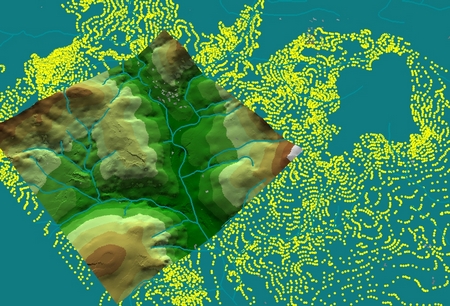 Liste des publications :
2022
Article dans une revue
2020
Communication dans un congrès
2019
Communication dans un congrès
2018
Article dans une revue
2017
Article dans une revue
2016
Communication dans un congrès
2014
Article dans une revue
2013
Communication dans un congrès
2012
Communication dans un congrès
2010
Communication dans un congrès
2009
Article dans une revue
2008
Communication dans un congrès
2003
Communication dans un congrès